Your comfortable vacation home is located in the pedestrian zone in the historic center of the market Berchtesgaden.

If you are interested in a stylish vacation value on refined ambience but the comfort of your own home does not want to miss, then we invite you and your family and friends are welcome to us.

All our rooms are tastefully adapted the traditional country style, and very well maintained, friendly, bright and comfortable.
Enjoy it with us all the amenities you would expect for a successful holiday.
The respective features, please refer to the offered apartments.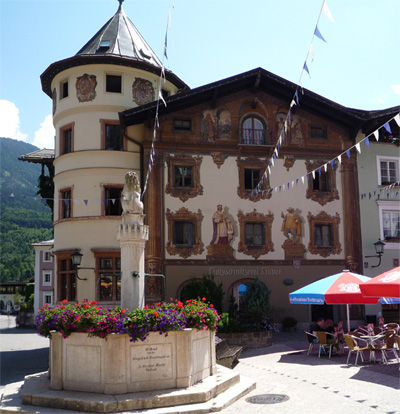 View of the historical "Deer House, which contains the sales and exhibition spaces of the wood carving Huber.

The house was built in 1594 as the year number identifies a cornerstone, built by the merchant and publisher George Labermair. 1894 reconstruction of the house by the architect August Thiersch: Increase of the house, at one floor, adding an east-facing short transverse construction and setting a cylindrical tower in the angle between two gables.
The original name of the building "to house Prugger" refers to a former bridge which was southeast of the house built over a creek ditch. The detached house was located on three sides at the hinge point between the Augustinian Monastery and the civil market.

The north-south facing gabled building is facing north towards the market place, on three floors, before 1894 it was two storeys. Go back alley butchers are located because of the sloping terrain four, formerly three floors. The massive brick building is the characteristic, nearly flat alpine roof with wide overhang.

Originally, all three facades of the house had been painted. remains and is the painting of the southern front, known as "monkey facade. It is the oldest surviving facade painting in Upper Bavaria. The northern and especially the east side facing the square was around 1894 paintings and involved were the painter Josef Hitzinger, Teisendorf and Karl Troll, Munich.

The painting of the marketplace facade architecture finds its role models to the southern front. Painted life-sized statues of the owner, and George Labermair of the elector and archbishop of Cologne, Maximilian Heinrich determine prominent place of the facade. In the gable field on the porch step, the founder of the 12th Count Century, Ermengarde, Berengar and Kuno on.

Source:
Klaus Kratzsch, in: The Restoration of the "monkey-front" at the bank in the Deer house in Berchtesgaden, conservation information output D No.13, Bavarian State Conservation Office, Munich 1991

Competent bodies: Bavarian State Conservation Office (MONUFAKT)

Um diese Informationen in deutscher Sprache zu erhalten, klicken Sie bitte hier!